DEN Summer School 2018, Inspire, Programme, Develop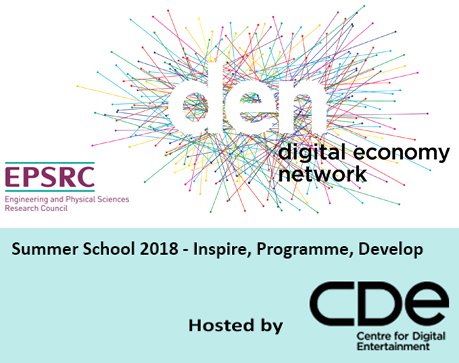 The Digital Economy Summer School has now taken place. Between Sunday 1st July and Tuesday 3rd July 2018 over 100 research students attended the summer school, hosted by CDE in Bournemouth. They were treated to a great selection of workshops, key note speakers and social activities, not to mention fabulous food and a fantastic venue. Thank you to everyone who attended and contributed. You have all helped to make this a successful event. We thoroughly enjoyed hosting it and we hope that you have all been inspired to programme and develop your skills further. Here are a few pictures to give just a taster of the summer school. There will be more to come so watch this space.
Group photo taken on the beach outside of Urban Reef – the venue for our welcome drinks and BBQ.
A few more from Urban Reef and the Beach
The rain may have started but it didn't dampen the mood! Thanks Urban Reef for the ponchos.
Some lovely photos of the students relaxing in the gardens at the Italian Villa
Key note speakers and workshops
CDE students and staff making the most of lunchtime in the gardens at the Italian Villa, well…. the sun was shining!
A few from the fabulous dinner followed by a bit of time to party!

Sunday 1st July 2018
We will open the summer school with a social get together, down by the beach at Urban Reef. The restaurant and bar is located right next to the beach and has fabulous panoramic views of Bournemouth Bay, from the Isle of Wight to the Purbecks. This is your chance to relax with a drink and nibbles and get to know your fellow summer school attendees.
Monday 2nd July
On Monday morning, registration will open at 09.00 followed by a welcome talk from Professor Iain MacRury, Deputy Dean – Research and Professional Practice for the Faculty of Media and Communication, Bournemouth University.
Guest speakers
We are very excited to announce that we have confirmed the attendance of Dr Sue Black OBE, technology evangelist, digital skills expert and entrepreneur with over twenty years experience. Dr Sue Black will give a key note talk on Monday morning, a great way to start the day.
More details on Key note speakers will be announced shortly.
You will be treated to a fabulous buffet style lunch at the Italian Villa, and then the afternoon will see you break down into smaller groups for half day researcher skills workshops. Choose from one of the following;
Monday workshops

1) Presenting Your Research With Impact
Hosted by Skillfluence
Excellent presentation skills can be a key to success in your work and career. Learn to articulate your research effectively at meeting and conference presentations. We look at how to present the right content (and amount) of information in an appropriate structure for the audience. Find out how to prepare well, even when short of time, deliver with confidence and manage nerves and of course, participants will have the chance to try out and practice their presentation skills.
2) Research communication, public speaking, improvisation and comedy techniques
Hosted by Nikhil Mistry & Dave Christensen, Bright Club Southampton, University of Southampton Professor Les Carr, Web Science Institute, University of Southampton
Bright Club is the platform that transforms researchers into stand-up comedians and has been doing this for 10 years across the UK, since originating at University College London. The format is all about having fun and audience participation, and combines research and comedy to educate and entertain.
This half-day workshop will focus on performance technique and confidence when delivering stand-up material. Initially games are used to help the attendees build and find their voice; then an analytical session looks at the mechanics of jokes and famous stand-up performers; a final section explores the attendees' initial ideas and jokes, coupled with a writing session.
There will also be optional opportunities for some stand-up comedy routines to be performed after the Summer School evening meal on Monday 2 July at the Italian Villa.
3) Project Managing your PhD
Hosted by Gefion Thuermer, Web Science CDT, University of Southampton
The aim of this session is to enable PhD/EngD students to manage their research project effectively, and help individuals identify the specific tasks that are necessary to successfully complete their doctoral programme. It will answer questions such as "How do I plan my data collection?" and "What do I need to do by when?, as well as providing students with tools and techniques they can use to achieve this.
By the end of this workshop, attendees will be able to:
Map out their PhD project in phases, including important milestones.
Identify, describe and plan tasks related to their doctoral research project.
Manage expectations, both external and their own, of the deliverables of a PhD/EngD.
Use appropriate tools to manage their project and tasks.
But that is not all, after a quick change back at the hotel, you will return to the Italian Villa for dinner, more opportunity for networking and enjoying the social environment.
Tuesday 3rd July
Tuesday promises to be a very full and rewarding day. You will have the option of three, full-day technical skills workshops as detailed below;
Tuesday workshops

1) Linking the Physical and the Virtual
Hosted by Dr Ian Stephenson of Bournemouth University and the University of Southampton
Using low cost single board computers, it's increasingly easy to collect data about in the real world. However displaying, and making sense of that data remains a challenge. Bournemouth and Southampton universities have been working to link live data from a high energy laser lab into a VR environment creating a novel way of monitoring the lab's status. In this workshop, we'll introduce you to the MQTT protocol used by many industrial sensor applications, and show how it can be used to easily bring the status of real world objects into your own software.
2) Introduction to creating VR/AR game content with Unity
Hosted by Tara Collingwoode-Williams, Carlos Gonzalez-Diaz, & Robert J. Homewood, Intelligent Games & Games Intelligence (IGGI) CDT, University of York & Goldsmiths, University of London
This workshop is for individuals who want to get started in using Unity to create an immersive/VR experience or content, but are not sure where to begin. It will take attendees through the Unity interface, menu items, using assets, creating scenes, and publishing builds, and finally provide the opportunity to begin the steps of putting a basic game together.
3) Kaggle: Tackling real world data science and machine learning challenges within a global online community
Hosted by Marios Michaildis, Competitive Data Scientist, H20.ai
This workshop will introduce and provide an overview of Kaggle – the home of data science and machine learning, and the world's largest online community of data scientists. Attendees of this workshop will have the opportunity to compete in a short, introductory level Kaggle competition, as well as learning the basics of the platform in order to upgrade their data science, analytical and machine learning skills and enhance career prospects.
All workshops will be allocated on a first come first served basis. If your preferred workshop is full, you can request to be added to a waiting list by emailing [email protected].
Lunch will be served, buffet style and you will also have refreshments in the afternoon.
At the end of the day, we will bring everyone back together for an overview of the sessions and prize giving, bringing the summer school to a close. Coach transfer will be arranged to take you back to the centre of Bournemouth for easy access to the train station.
Meals and refreshments (as detailed in the ticket options) will be provided (first drink and nibbles during the evening social on Sunday 1st July, a welcome drink and a drink with dinner on Monday 2nd July, pay bar thereafter).
Bournemouth has some fantastic activities to take part in. There is plenty to see and do, so why not travel down a little earlier in the day to make the most of your time by the sea. Explore Bournemouth Gardens, visit Bournemouth Pier or Boscombe Pier, have a game of Mini Golf and of course we have the famous pier to shore zip wire, the first of its kind in the world. Or you could simply relax on the beach with an ice cream and soak up the wonderful views.
Our summer school venue is located in the stunning surroundings of Compton Acres. The Italian Villa is the perfect location for you to be inspired, and help you develop your skills in a relaxed environment. If the weather is kind to us, you could also take a moment or two to enjoy the gardens of the villa.