CDE Summer School 2021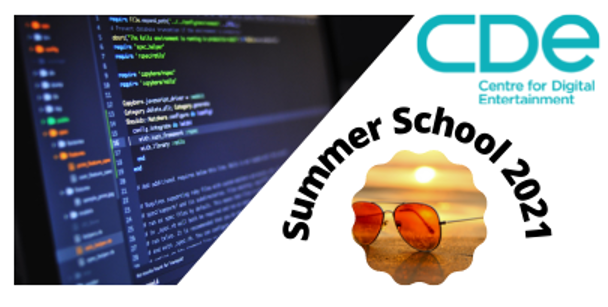 Welcome:
Welcome to the CDE Summer School. We are thrilled to be able to provide our first face to face event in 1.5 years. We have been working hard planning this event to make sure that it is enjoyable and in the current climate, offers a safe environment for our research engineers to get together, develop their skills and share in the experience.
Guest Hosts:
Our thanks go to the fantastic academics from the University of Bath and Bournemouth University, who will be hosting the coding bootcamp.  We also have the support of Natasha Bye, founder of The Strategy Doctor, who will be hosting an improv session for the research engineers.  Find our more below:
What's On:
Sunday 12th September: The Summer School will kick off with a student led event on Sunday night. A Pint of Computer Science will give our research engineers the opportunity to catch up with their cohort and give an impromptu update on their research in a social setting.
Venue: BrewHouse
Monday 13th and Tuesday 14th September: Coding Bootcamp: Research engineers can develop their skills in Python during this coding bootcamp. We are thrilled to confirm that these sessions will be hosted by academics from both the University of Bath and Bournemouth University.
Venue: Bath Royal Literary and Scientific Institution BRSLI
In the evening of Monday 13th September, CDE will host a dinner for all CDE students, staff and facilitators. This will give everyone the chance to wind down after a busy day coding.
Venue: Martini
The evening of Tuesday 14th September will be an optional student led evening social.
Venue: Thirsty Meeples
Wednesday 15th September: This final part of the Summer School is a half day activity. We are pleased to confirm that Natasha Bye, founder of The Strategy Doctor will be hosting an improv workshop. Improvisation has a much deeper purpose beyond fun, comedy, and entertainment. Applying the skills learnt in improv can help people become:
Excellent listeners
Fantastic collaborators
Engaging storytellers
Great communicators
Confident people who thrive in uncertainty
Creative thinkers
These are all qualities that can help doctoral students to present and engage others in their research now, as well as take with them as they embark on their chosen career.